Technology
Seamless MBOX to HTML Conversion with Email Preservation

In today's digital age, the demand for converting MBOX to HTML has seen a significant rise. Whether it's for the convenience of accessing emails in web browsers like Chrome, Firefox, or Internet Explorer, or for archiving purposes, people are actively seeking ways to perform this conversion while ensuring that their data remains in pristine condition. If you're among those looking for a reliable and hassle-free method to convert MBOX to HTML, you're in the right place. In this comprehensive guide, we'll walk you through the entire process, keeping your email formatting intact.
MBOX & HTML – A Quick Introduction
MBOX files are widely used to store multiple email messages along with attachments in a single file. This format enjoys compatibility with over 18 well-known email clients and is even used by some email services like Gmail's Google Takeout as a backup storage format.
HTML, on the other hand, is a file format used for text files containing markup tags. In simpler terms, HTML is used to create web pages that can be viewed in web browsers. Many text editors allow users to edit and format HTML documents according to their needs.
Reasons for Converting MBOX to HTML
The need to convert MBOX files to HTML format arises from various user requirements, including:
Sharing Emails in HTML Format: In some situations, users need to provide email messages to clients in HTML format. Since most email applications support MBOX files, direct conversion to HTML is a practical choice.
Using Google Takeout Backups: Services like Google Takeout provide users with MBOX files containing all their mailbox data. To access and edit these messages as HTML files, users seek a way to convert MBOX to HTML.
Archiving Emails: Many users prefer to maintain backup copies of their emails as HTML files for easy access and editing. HTML files are user-friendly and offer an easily readable format.
For example, a user on a technical forum posted the following query, highlighting the need for converting MBOX files to HTML while preserving email formatting:
"I recently downloaded all my Gmail emails using Google Takeout, and I'm left with an MBOX file. The issue is that I need all my emails in HTML documents without any changes to the formatting. Is there a way to do this without compromising the email properties?"
A Surefire Method to Convert MBOX to HTML on Windows
If you're seeking a reliable solution, you've come to the right place. The best way to export MBOX files into HTML documents is by using an automated solution. While several options are available online, only a few offer true flexibility and accuracy in complex conversions. The DataVare MBOX to HTML Converter is your answer in such scenarios. It boasts a range of features that streamline the MBOX to HTML conversion process, ensuring that none of the email attributes are altered during migration. This software is compatible with all Windows versions, including Windows 10 and earlier. Start by trying the free version to experience the flexibility of this utility.
Key Features of the MBOX to HTML Converter
The software offers numerous advantages, making it a top choice for MBOX to HTML conversion:
Export Emails in HTML Files: The tool supports both selective and bulk migration, allowing you to process an unlimited number of emails and files simultaneously.
Extensive MBOX Support: The software intelligently handles various types of MBOX files, including those with extensions, those without extensions, MBS files, MBX files, and more.
100% Accuracy & Efficiency: The MBOX to HTML converter delivers flawless results, leaving no email behind. It preserves all header attributes, such as cc, bcc, subject, date, and email addresses, along with inline images and hyperlinks.
Maintains HTML Formatting: Converted HTML files retain the original email formatting, ensuring that all tags are left untouched for complete originality.
Custom File Naming: A unique feature in this software allows you to apply custom naming conventions while converting MBOX to HTML, giving you full control over the output filenames.
Attachments Extraction: Instead of discarding attachments, the software extracts them into separate folders, providing users with both HTML files and attachments.
Support all Windows OS: Whether you're using Windows OS any version the software efficiently generates HTML files for each email message stored in MBOX without fail.
Read this Post: Expert Solution to Export MBOX Emails to Outlook PST
For a step-by-step guide with screenshots, follow these instructions:
Launch the software and click the "Add File" button from the ribbon bar.
Select "MBOX Files" and click "Next."
Browse for the MBOX files (Pegasus files, .mbx files, or MBOX files without extensions) extracted from your system in step 1.
You can use the Folder mode to import multiple Pegasus mailbox files simultaneously.
The software will preview the emails in the mailbox files. Click the "Export" button to proceed.
Choose "HTML" from the list of export options and click "Export."
The MBOX to HTML conversion process will begin.
Once the process is complete, you can save the progress report and open the folder to verify all the converted files.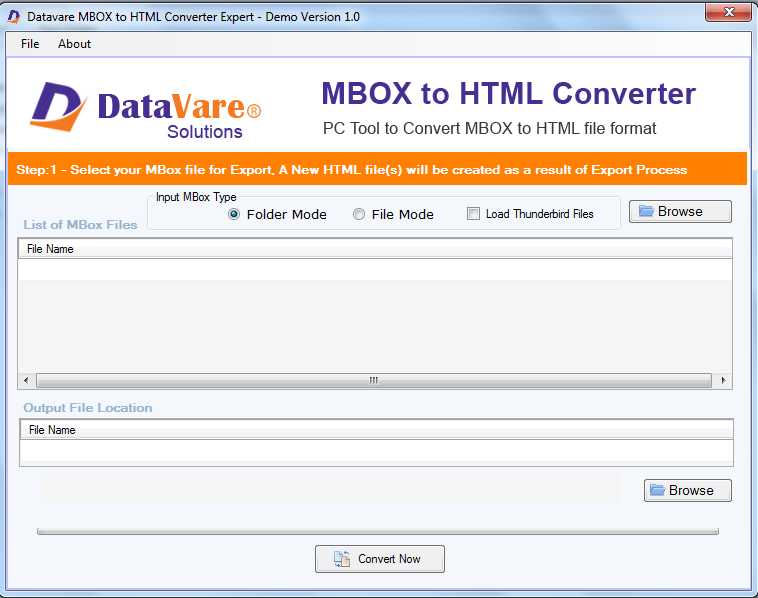 Final Thoughts,
Converting emails from one file format to another can be a challenging task, as it involves changing file encodings, which, if done incorrectly, can corrupt your data. This is especially critical when dealing with MBOX files, which contain multiple emails in a single file. To ensure accurate results without compromising the formatting of MBOX files, professional users rely on specialized MBOX to HTML converters. In this article, we've provided a solution that guarantees accurate conversion without altering the formatting of MBOX files. Don't hesitate; grab the tool now and effortlessly convert MBOX files to HTML without constraints.